Toshiba Memory Corporation Unveils Single Package NVMe™ Client SSD Utilizing 64-Layer, 3D Flash Memory
TOKYO - Toshiba Memory Corporation, the world leader in memory solutions, today announced the launch of the BG3 series, a new line-up of single package NVM Express™ (NVMe™) client SSDs integrating Toshiba Memory Corporation's cutting-edge 64-layer, 3-bit-per-cell (TLC) BiCS FLASH™ and controller in a ball grid array (BGA) package. Sample shipments to PC OEM customers start today in limited quantities, and Toshiba Memory Corporation will gradually increase shipments from the fourth calendar quarter of this year.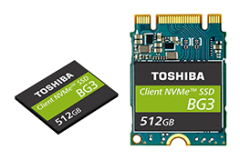 The new BG3 series SSDs utilizes the features of PCI EXPRESS® (PCIe®) Gen3 x 2lanes and NVMe™ Revision 1.2.1 architecture. They are also equipped with a Host Memory Buffer (HMB) feature [1], which uses the host memory to substitute for DRAMs, saving power and space, and supporting developers of compact devices who must achieve a balance between high performance and low power consumption. Also, the combined benefits of SLC cache features, improved flash management and flash memory performance add up to deliver performance of up to 1520MB/s sequential read and 840MB/s sequential write[2].

The new BG3 series will be available in three capacities, 128GB, 256GB and 512GB[3]. Each capacity is aligned with the industry's smallest-class SSD form factors[4], the surface-mount 16mm x 20mm x 1.5mm single package M.2 1620[5] and the removable M.2 2230[6] module. The BG3 series has more compact dimensions than previous generation products, with 128GB and 256GB single package models conforming to the thin 1.35mm of M.2 1620-S2 and 512GB single package models conforming to the 1.5mm of M.2 1620-S3. This will help to promote development of new designs for advanced mobile and embedded devices, including thin mobile PCs and tablets. Also, due to their compact size and low power consumption, the BG3 SSDs can also be applied to power and space-sensitive server-boot storage in data centers.

Security needs will be addressed by also offering self-encrypting drive (SED) models supporting TCG Opal Version 2.01[7].

The BG3 series will be exhibited at the Flash Memory Summit 2017 in Santa Clara, California, USA from August 8 to 10, 2017, in Booth #407.
 PCI EXPRESS and PCIe are registered trademarks of PCI-SIG.
 NVMe and NVM Express are trademarks of NVM Express, Inc.
 All other company names, product names, and service names mentioned herein may be trademarks of their respective companies.
Notes:
[1] A function of employing a part of host DRAM for flash management purposes.
[2] Toshiba Memory Corporation survey based on sequential read and write speeds of 128KiB units, using 512GB models in the BG3 series under Toshiba Memory Corporation test conditions. Read and write speed may vary, depending on the host device, read and write conditions, and file size. Toshiba Memory Corporation defines a megabyte (MB) as 1,000,000 bytes and a kibibyte (KiB) as 210bytes, or 1,024bytes. The sequential read and write performance mentioned herein are reference data, and may vary with the BG3 product data in the datasheet.
[3] Definition of capacity: Toshiba Memory Corporation defines a gigabyte (GB) as 1,000,000,000bytes. A computer operating system, however, reports storage capacity using powers of 2 for the definition of 1GB = 230bytes = 1,073,741,824bytes, and therefore shows less storage capacity. Available storage capacity (including examples of various media files) will vary based on file size, formatting, settings, software and operating system, such as Microsoft Operating System and/or pre-installed software applications, or media content. Actual formatted capacity may vary.
[4] Toshiba Memory Corporation survey, as of August 3, 2017.
[5] The form factor of the 128GB and 256GB models is M.2 1620-S2, and the form factor of the 512GB model is M.2 1620-S3.
[6] The form factor of the 128GB and 256GB models is M.2 2230-S2, and the form factor of the 512GB model is M.2 2230-S3.
[7] Availability of the SED model line-up may vary by region.
Information in this document, including product prices and specifications, content of services and contact information, is correct on the date of the announcement but is subject to change without prior notice.