Toshiba Expands Line-up of Embedded NAND Flash Memory Products for Automotive Applications
Supports AEC-Q100 Grade2 Requirements
TOKYO—Toshiba Corporation's (TOKYO: 6502) Storage & Electronic Devices Solutions Company today announced the launch of JEDEC e∙MMC™ Version 5.1[1]compliant embedded NAND flash memory products supporting AEC-Q100 Grade2 [2]requirements. The line-up offers densities of 8GB, 16GB, 32GB and 64GB. Sample shipments start from today with mass production scheduled for the second quarter (April to June) of 2017.
The new products integrate NAND chips fabricated with 15nm process technology with a controller to manage basic control functions for NAND applications in a single package. As a complement to Toshiba's previous product group of e∙MMC, which deliver the operating temperature range of -40 to +85°C required by car infotainment applications, the new products support applications such as instrument clusters that require e∙MMC storage solutions to operate at higher temperatures up to +105°C.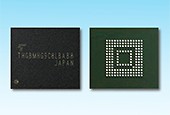 In the automotive market, demand for NAND flash memory is continuing to grow alongside advances in car infotainment, ADAS [3] and autonomous driving systems. Toshiba is meeting this demand by reinforcing its line-up of high performance and high density memory products and will continue to take leadership in the market.
Toshiba is also developing automotive UFS [4] products that support AEC-Q100.
1. Integrated NAND Flash Memory Management
The JEDEC e∙MMC Version 5.1 compliant interface handles essential functions, including writing block management, error correction and driver software. It simplifies system development, allowing manufacturers to minimize development costs and speed up time to market for new and upgraded products. Additionally, new features[5] standardized in JEDEC e∙MMC Version 5.1, such as BKOPS control, Cache Barrier, Cache Flushing Report, Large RPMB Write and Command Queuing, are applied to the new products to enhance usability.
2. Extended Temperature Range
Supports operating temperature range of -40°C to +105°C.
Toshiba also conducted additional reliability test to meet AEC-Q100 Grade2 specifications.
JEDEC e∙MMC V5.1 standard
HS-MMC interface

2.7-3.6V (Memory core)
1.7V-1.95V, 2.7V-3.6V (Interface)

153Ball FBGA
11.5mm x 13.0mm
Notes
[1] e∙MMC™ is a product category for a class of embedded memory products built to the JEDEC e∙MMC Standard specification and is a trademark of the JEDEC Solid State Technology Association.
[2] Electrical component qualification requirements defined by the AEC (Automotive Electronics Council).
[3] Advanced Driving Assistant System
[4] Universal Flash Storage: Product category for a class of embedded memory products built to the JEDEC Standard specification.
[5] "BKOPS control" is a function where the host allows the device to perform background operation when the device is idle. "Cache Barrier" is a function that controls when cache data is written to the memory chip. "Cache Flushing Report" is a function that informs the host if the device's flushing policy is FIFO (First In First Out) or not. "Large RPMB write" is a function that increases the data size that can be written to the RPMB area to 8KB.
The products are labeled based on their memory chip(s), not the amount of memory capacity available for data storage by the end user. Part of the capacity is reserved for device management. Please refer to the data sheet or your local Toshiba sales representative. (For purposes of measuring memory capacity in this context, 1GB = 1,073,741,824 bytes.)
Information in this document, including product prices and specifications, content of services and contact information, is correct on the date of the announcement but is subject to change without prior notice.