Toshiba Announces Availability of Very Read-intensive Enterprise SAS SSD
The PX04SL series SAS eSSD is optimized for data warehousing, web servers, media streaming and video on demand
TOKYO — Toshiba Corporation's (TOKYO: 6502) Semiconductor & Storage Products Company today announced the availability of a new very read-intensive, enterprise SAS solid state drive (SSD) – the PX04SL series. The PX04SL series is optimized for read-intensive application workloads such as data warehousing, web servers, media streaming and video on demand (VOD). Sample shipments start today.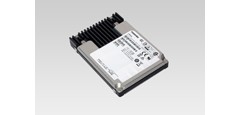 The PX04SL can offer the most cost-effective solutions in Toshiba's PX04S generation of SAS interface enterprise SSDs. Available in 2TB[1] and 4TB capacities, the PX04SL enables organizations to minimize total cost of ownership (TCO) without sacrificing performance. With sustained random read performance of 270K IOPS[2], the PX04SL helps read-intensive application workloads achieve superior results. To combat bottlenecks, this SAS SSD provides high-density storage for efficient data throughput to deliver high performance, reliability and endurance for maximum application scalability.
Notes:
[1] Definition of capacity: Toshiba defines a megabyte (MB) as 1,000,000 bytes, a gigabyte (GB) as 1,000,000,000 bytes and a terabyte (TB) as 1,000,000,000,000 bytes.  A computer operating system, however, reports storage capacity using powers of 2 for the definition of 1GB = 230= 1,073,741,824 bytes and therefore shows less storage capacity.  Available storage capacity (including examples of various media files) will vary based on file size, formatting, settings, software and operating system, such as Microsoft Operating System and/or pre-installed software applications, or media content.  Actual formatted capacity may vary.
[2] Read and write speed may vary depending on the host device, read and write conditions, and file size.
Follow this link for more on this product.
http://toshiba.semicon-storage.com/ap-en/product/storage-products/enterprise-ssd/px04slb-px04slqxxx.html

Follow this link for more on Toshiba enterprise SSDs.
https://tw.kioxia.com/zh-tw/business/ssd/enterprise-ssd.html

Customer Inquiries:
Storage Products Division
Information in this document, including product prices and specifications, content of services and contact information, is correct on the date of the announcement but is subject to change without prior notice.